Expert Restoration Services Since 1979
We understand the fear, frustration and confusion in choosing a restoration partner. So, with over 40,000 completed projects, we can provide you with a list of referrals to help you come to appreciate and understand just how reliable and dependable we are when you need us most.
Durham Region's Restoration Experts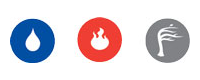 Restoration Services
CRCS DKI can handle all aspects of your property damage emergency or insurance claim. Whether you are dealing with fire, flood or wind damage, or other natural or man-made disasters, you will find that our expertise and reputation in putting our customers first is unmatched. If you are looking for cleanup, repair and restoration services for your home or business, contact us. We are located in Oshawa and also serve Pickering, Ajax, Whitby, Bowmanville (Durham Region) and other parts of the Greater Toronto Area. Call us today at 1-800-563-3477.
Select from one of the links below for more detailed information:
| | |
| --- | --- |
| | If a pipe bursts in a bathroom on the upper floor of your house, you are not only dealing with the damage to the floor, and the ceiling of the room below the bathroom, you may also have water damage all the way down to the basement. That is why CRCS is a full service provider, with expertise in all aspects of property damage and remediation. We have the skills and equipment inventory that enable us to act immediately, thereby minimizing the damage, and prepare for repairs, from extracting the standing water to restoring your property to its original condition. |
| | It's not just the drywall and flooring that suffers damage during a flood or fire. It's also the furniture, the household goods and the personal items - everything from linens to teddy bears. We understand you want to have your contents restored to pristine condition, and we also know that it makes financial sense; restoring rather than replacing can reduce expenses by 80% as well as keeping diposal fees to a minimum. That's why we use our patented technology to clean soft contents, hard contents, even electronics. |
| | Why cobble together a patchwork of service teams when you can have it all through one contact at CRCS. Our team of experts can handle all aspects of your flood restoration. We have the skills and equipment at hand to manage everything including assessing the structural damage, cleaning up, repairing the damaged structure, cleaning and restoring your contents, right up to painting and finishes. We will communicate throughout the team to ensure your project is managed efficiently and cost effectively. |
| | Fast response is essential whenever there is water damage. Whether the source of the problem is plumbing or torrential rain, fast cleanup ensures that the amount of damage is mitigated. Water extraction and drying must be started and finished as quickly as possible, as the damage caused by water is more devastating the longer it stands. CRCS DKI can remove the water and get your property dried and secured quickly with our large inventory of equipment and our fully trained team of professionals. |
| | Water damage is a serious problem, but when the substance causing the damage is sewer water, the problems multiply. Untreated sewage is one of the most dangerous substances and yet one to which we can be easily exposed. If you have a sewer backup in your home, timing is everything. Don't hesitate to call us, any time of the day or night, to begin the clean-up and disinfection process immediately. We have the tools at our disposal to make your home safe from harmful pathogens and to eliminate the possibility of mould growth. |
| | The first sign of lasting water damage is mildew, the precursor to mould, and it can begin to form in the right conditions in just 48 hours. A water damage restoration starts with a thorough investigation using mould inspection equipment, as mildew and mould can grow on surfaces that are not visible; rafters, floor joists, and wall studs behind the walls and ceiling can all harbour mould and cause serious health issues. Acting fast is the key to a successful cleanup and restoration. |
Whether you are facing fire, water, or other types of damage, we have the people and systems in place for a successful cleanup and restoration to get you back to where you were before disaster hit. Help is only a phone call away. Call 1-800-563-3477 now.