Expert Restoration Services Since 1979
We understand the fear, frustration and confusion in choosing a restoration partner. So, with over 40,000 completed projects, we can provide you with a list of referrals to help you come to appreciate and understand just how reliable and dependable we are when you need us most.
Durham Region's Restoration Experts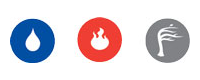 Fire and Flood Restoration
Whether you are facing fire, water, or other types of damage, we have the people and systems in place for a successful cleanup and restoration to get you back to where you were before disaster hit. Help is only a phone call away. Call 1-800-563-3477 now.