Expert Restoration Services Since 1979
We understand the fear, frustration and confusion in choosing a restoration partner. So, with over 40,000 completed projects, we can provide you with a list of referrals to help you come to appreciate and understand just how reliable and dependable we are when you need us most.
Durham Region's Restoration Experts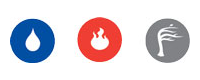 | | |
| --- | --- |
| Restoration Services | 5/6/2021 |
CRCS DKI has been in the business of providing property restoration services since 1979. It is now the most experienced and best trained team of professionals in Durham Region. We have expertise in remediating and restoring buildings and their contents, whether the damage is a result of fire, wind or water, or vandalism. Our complete service offering includes packing out and storing contents, dry-cleaning, asbestos and mould removal, and more. We are pleased to provide a workmanship warranty on our services. CRCS is a proud member and leader in the Ajax Pickering community, and enjoys participating in local programs that support common goals. For example, since 2012, CRCS has been pleased to join with Steps for Life in raising awareness and funds for health & safety training in workplaces, an issue that CRCS takes very seriously for its own employees.
When disaster strikes, rest assured that there is one company out there on your side. We are committed to a resolution that is on time, on budget, all the time.
CRCS has a 20,000 square foot facility in Oshawa which affords us the space to house our extensive collection of state-of-the-art tools for remediating and restoring damaged structures and goods. You can browse through our project galleries to see some of this specialized disaster recovery equipment in action. Time is of the essence when it comes to making a complete recovery after a disaster. As soon as you discover that your home or business has been damaged by fire, water, wind, mould, or any other type of disaster, give CRCS DKI a call any time of the day or night. We are available 24 hours a day, 7 days a week. We can arrive at your Whitby property within one hour of your call.
Contact us today for more information about:


Property Restoration Durham
Remediation Services Ajax Pickering
Disaster Recovery Services Oshawa
Disaster Clean-Up Whitby
Flood Remediation
Flood Damage Restoration
Flood Restoration
Water Damage Cleanup
Water Damage Repair
Water Damage Restoration
As an independent network member of Disaster Kleenup International Canada (DKI), we have the support of the most experienced and best equipped contractors across Canada.

We have provided restoration services to the Durham Region and surrounding areas since 1979. With the experience of many thousands of successful projects behind us, we are able to bring together the right set of trained professionals and state-of-the-art equipment to mitigate your damage, and undertake your repairs and restoration in a timely and professional manner.
If a pipe bursts in a bathroom on the upper floor of your house, you are not only dealing with the damage to the floor, and the ceiling of the room below the bathroom, you may also have water damage all the way down to the basement. That is why CRCS is a full service provider, with expertise in all aspects of property damage and remediation. We have the skills and equipment inventory that enable us to act immediately, thereby minimizing the damage, and prepare for repairs, from extracting the standing water to restoring your property to its original condition. It's not just the drywall and flooring that suffers damage during a flood or fire. It's also the furniture, the household goods and the personal items - everything from linens to teddy bears. We understand you want to have your contents restored to pristine condition, and we also know that it makes financial sense; restoring rather than replacing can reduce expenses by 80% as well as keeping diposal fees to a minimum. That's why we use our patented technology to clean soft contents, hard contents, even electronics.
Success comes from having the right blend of ingredients in the proper proportions. CRCS DKI employs the most industry experts of any restoration firm in all of Southern Ontario. Our in-house staff includes IICRC-certified experts in all areas of damage and remediation, as well as a team of knowledgeable Project Managers and skilled trades technicians. This complete set of professionals is available with just one phone call to CRCS, your single source for all phases of the remediation and restoration process.
Why cobble together a patchwork of service teams when you can have it all through one contact at CRCS. Our team of experts can handle all aspects of your flood restoration. We have the skills and equipment at hand to manage everything including assessing the structural damage, cleaning up, repairing the damaged structure, cleaning and restoring your contents, right up to painting and finishes. We will communicate throughout the team to ensure your project is managed efficiently and cost effectively. Fast response is essential whenever there is water damage. Whether the source of the problem is plumbing or torrential rain, fast cleanup ensures that the amount of damage is mitigated. Water extraction and drying must be started and finished as quickly as possible, as the damage caused by water is more devastating the longer it stands. CRCS DKI can remove the water and get your property dried and secured quickly with our large inventory of equipment and our fully trained team of professionals.
Whether you are facing fire, water, or other types of damage, we have the people and systems in place for a successful cleanup and restoration to get you back to where you were before disaster hit. Help is only a phone call away. Call 1-800-563-3477 now.